If you're just tuning in, CLICK HERE to start at the beginning. 🙂
Last night, when taking Coco out to potty, I heard thunder. To the northeast, a dark wall was approaching. In front of it, a beautiful rainbow was blessing the sky. I encouraged Coco to hurry up and do her business but she was distracted by a police K9 unit nearby.
After the wind wall hit (the cold wind that seemingly hits out of nowhere in front of one of the rainy season storms), I hurried her back to the boat. Shortly thereafter, No Tan Lines was rocking pretty good. I took this shot at that time, as well as the one at the top of this story. Neither one is photoshopped, of course.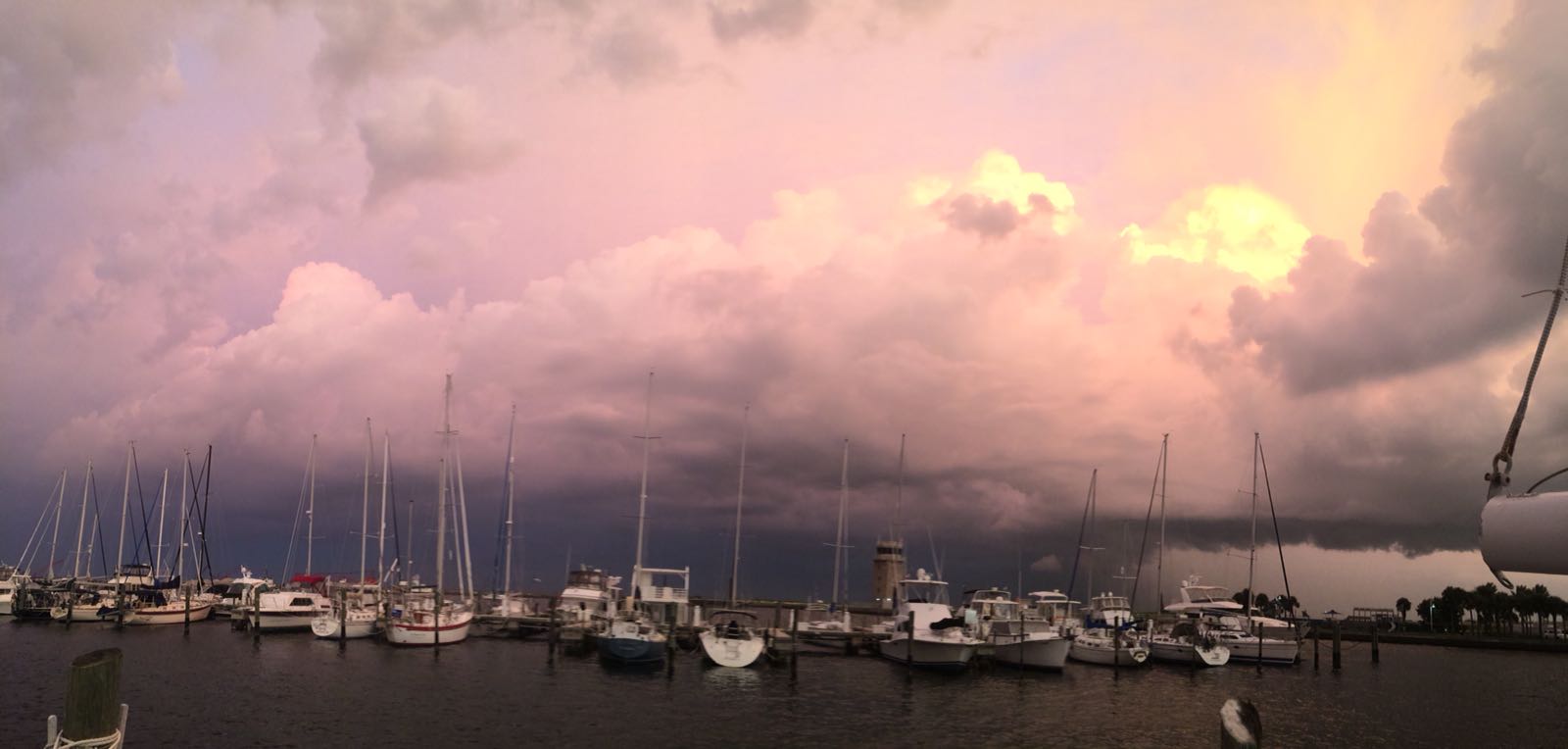 The sun was starting to set and the storm was moving very, very slowly. When it finally hit, it was already dark out and I heard some odd sounds outside that I hadn't heard before. So, we stepped outside to investigate. We weren't rubbing anything but we adjusted the lines, and added one more, securing to the winch in the cockpit. It pulled us a bit further from the finger dock where we'd been smushed against the bumpers pretty good.
While we were standing outside, the wind instantly shifted from south to east. We suspected a nearby rotation but it was pitch black out. Lightning was striking non-stop so we were able to use those flashes to see the sky in the distance. We couldn't see any waterspout or tornado, thank goodness. I asked Mason (age 12) if he was afraid. He said no so we opted to stay on board, rather than head the captain's lounge, which is constructed with cinder block.
We got a TON of rain and some serious wind but Tanny fared just fine once again. I couldn't take Coco out for another potty attempt until almost midnight. Boy oh boy, was she relieved!!
This morning, we found fallen palm fronds all over the place! The marina had scheduled tree trimming for today but it looks like Mother Nature took care of most of that. 😉
NEXT: MENACING HURRICANE MICHAEL! See Pics and Videos
Don't forget to subscribe to our newsletter. We'll alert you to new posts and we'll be having book give-aways! 🙂
* * *
Angela Hoy is a publisher, a blogger, and the author of 19 books. She lived on dirt her entire life before her family gave away almost everything they owned, and moved onto a 52-foot Irwin Center Cockpit Ketch. They all live, work, and play on board full-time.
Angela is the publisher of WritersWeekly.com, a free source of paying markets for freelance writers and photographers. If you want to write for magazines, websites, businesses, or others, check it out. It's free! Her publishing services company, BookLocker.com, has published more than 9,000 books over the past 18 years. If you want to publish a book, she'd love to hear from you! Abuzz Press is BookLocker's hybrid publishing company. And, PubPreppers.com offers services to authors who are having their books published elsewhere.