If you're just tuning in, CLICK HERE to start at the beginning. 🙂
When you live on a boat, you grow accustomed to the sounds and the motions of your vessel on the water. There are normal sounds (the water pump clicking on or off, for example) and abnormal sounds (like the high water alarm!). And, there are normal motions (the constant, gentle rocking), and abnormal motions (like when a waterspout appears nearby and the boat instantly heels waaaaaay over!).
One afternoon earlier this week, I was sitting here working aboard No Tan Lines ("Tanny") in the aft cabin. It was pretty quiet. Richard had taken Mason to a doctor appointment and Max was busy doing his school work in the v-berth. The air conditioner was running and it's pretty loud so I couldn't hear when the wind picked up. I could feel it, though. No big deal. The boat is almost always in motion and, when the afternoon storms blow in, we can rock quite a bit. I glanced through the port and saw black clouds approaching. Yea! Another blow!! We get those daily right now so I turned my attention back to the article I was writing.
And, that's when I felt something different – something I've felt only twice before. The boat started shuddering. It felt like Tanny had the shiggles. She would shudder, and then stop, and shudder again. A weird, silent on and off vibration. And, I knew what that meant. We were rubbing the dock!
I pushed my laptop aside, jumped up, and ran through the hallway. The wind was howling now. Rambo the cat, who is terrified of storms, was heading in the opposite direction. He ran between my legs, screeching loudly as he always does when a big storm is coming. Max came barrelling out of his room. He'd felt it, too. He yelled, "What IS that?!"
I said, "We're rubbing the dock! HURRY!"
Max threw open the companionway door, and flew into the cockpit. I was right on his heels. Tanny was flush against the dock on the starboard side. The bumpers were too low for the tide so they weren't protecting her. Since the boat was pitching in the high winds, the toe rail was being scrunched and wood was splintering. Max ran to the bow, and started pulling on the port lines. I raced to the stern and, try as I might, I could not pull the lines. The winds was too strong, around 50 knots. I didn't have the strength to pull a 45,000 lb. vessel against it.
Thankfully, at that moment, Captain Brian was walking up the dock. I yelled over the wind to get his attention. He jumped on the boat, and started helping Max with the bow line. I then ran to the middle of the starboard side, planted my butt on the deck of the boat, put both of my feet against the dock, and pushed with all of my might. That worked! I was able to get us about 12 inches away from the dock. I locked my knees and held on tight. I was wearing a dress so I must have been a sight.
Our next-boat-neighbors, however, weren't paying any attention to me. They had their own issue to deal with. They own a large power yacht and they have a pretty heavy skiff on their upper deck, complete with an outboard and a center console. When the winds started howling, they decided to pull it up with their lift, and lower it into the water. I was glad they were doing that because it seemed we might be getting a tornado or a waterspout soon and I didn't want that skiff going airborne, and landing on Tanny!
They got the skiff in the air, and moved it over the water (between our two boats)…and then the lift stopped working. So, the skiff was hanging there, about 12 feet above the water, dead center between our boats, and swinging wildly in the gale-force winds.
Brian and Max had managed to secure our lines and I was able to unlock my knees. We adjusted the bumpers and then Max then stood on our stern, holding a boat hook to prevent the skiff from hitting Tanny while it was blowing all around. They managed to get lines tied from the skiff to the pilings and that was about all that could be done until the storm ended.
We then sat in the cockpit, and watched the clouds heading our way. We didn't see any rotation, thank goodness. Here's the funny thing. We only got a few sprinkles when it passed over. I looked at the radar when I came back inside and the big red dot appeared to disappear just before it hit downtown St. Pete, and then reappeared north of town. WEIRD!!!
After things calmed down, I called Richard and Mason at the doctor's office, and said, "You missed all the excitement! IT WAS AWESOME!!!"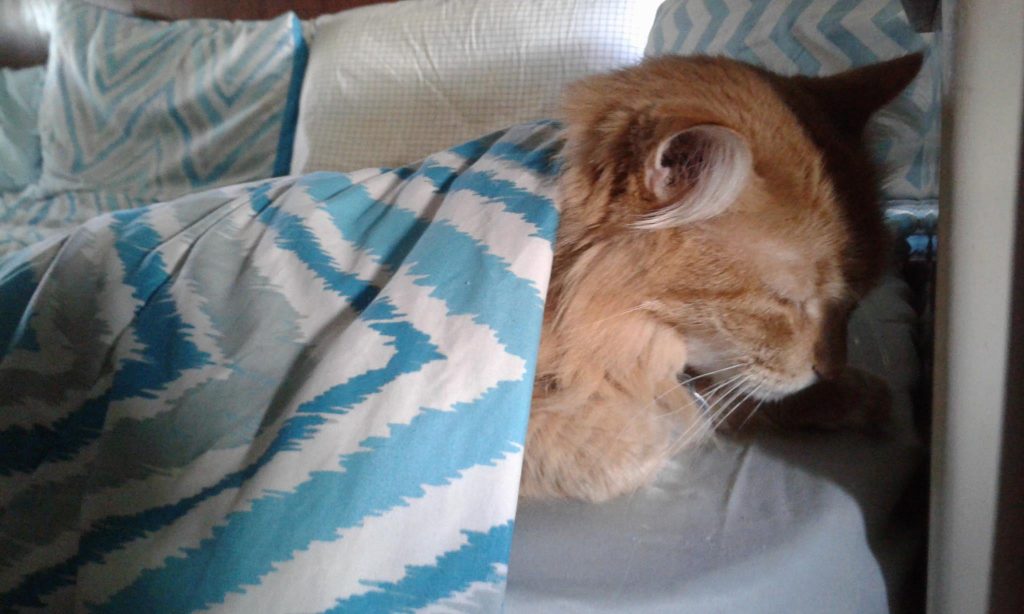 The damage to the toe rail isn't any big deal because we're currently having it ripped out and replaced. So, Tanny is none the worse for wear. We have a high chance of storms again this afternoon and I can't WAIT!
Don't forget to subscribe to our newsletter. We'll alert you to new posts and we'll be having book give-aways! 🙂
* * *
Angela Hoy is a publisher, a blogger, and the author of 19 books. She lived on dirt her entire life before her family gave away almost everything they owned, and moved onto a 52-foot Irwin Center Cockpit Ketch. They all live, work, and play on board full-time.
Angela is the publisher of WritersWeekly.com, a free source of paying markets for freelance writers and photographers. If you want to write for magazines, websites, businesses, or others, check it out. It's free! Her publishing services company, BookLocker.com, has published more than 9,000 books over the past 18 years. If you want to publish a book, she'd love to hear from you! Abuzz Press is BookLocker's hybrid publishing company. And, PubPreppers.com offers services to authors who are having their books published elsewhere.