If you're just tuning in, CLICK HERE to start at the beginning. 🙂
I admit it…I suck at poetry.. And, it wasn't really a "black" sky but it was pretty dark, and getting darker! The photo above is from the big blow we had on Tuesday. The rainy season is in full force right now and, when this one hit, the winds blew 40 mph and it rained sideways. We forgot to close the isinglass over the companionway so we had a significant leak pouring into the salon. Nobody wanted to step outside and get drenched (or get struck by lightning!) so we just laid down a bunch of towels.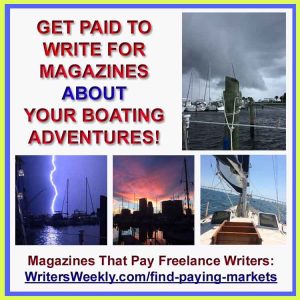 Then, we sat by the ports, watching the system push through. The seas in the marina itself were 1-2 feet, which is very odd, even for a blow. The water rushing by No Tan Lines looked like a river and we were bouncing all over the place and heeling way over with each large gust. It was so cool!! We had another big blow yesterday and still another one this morning.
I LOVE rain so this is definitely my favorite time of year. Not only do we get a great lightning show in the afternoons, but the clouds make the Florida heat SO much more bearable.
NEXT: Mass Mayhem on 2 Boats in 50-Knot Winds!
Don't forget to subscribe to our newsletter. We'll alert you to new posts and we'll be having book give-aways! 🙂
* * *
Angela Hoy is a publisher, a blogger, and the author of 19 books. She lived on dirt her entire life before her family gave away almost everything they owned, and moved onto a 52-foot Irwin Center Cockpit Ketch. They all live, work, and play on board full-time.
Angela is the publisher of WritersWeekly.com, a free source of paying markets for freelance writers and photographers. If you want to write for magazines, websites, businesses, or others, check it out. It's free! Her publishing services company, BookLocker.com, has published more than 9,000 books over the past 18 years. If you want to publish a book, she'd love to hear from you! Abuzz Press is BookLocker's hybrid publishing company. And, PubPreppers.com offers services to authors who are having their books published elsewhere.